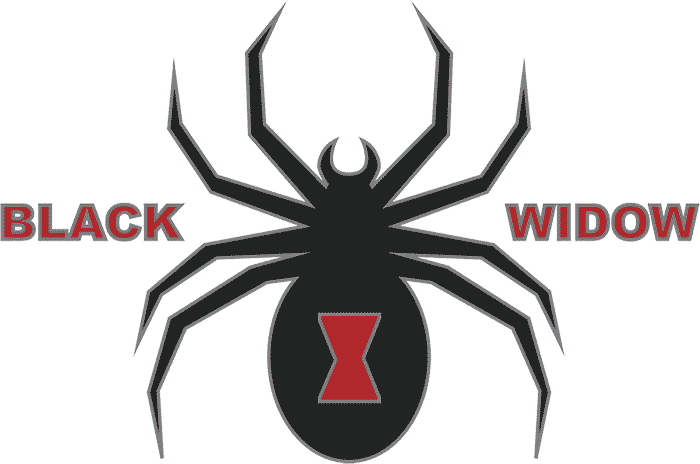 The Exclusive
SCA Performance GMC Black Widow Package Order Guide
Black widow
STANDARD BLACK WIDOW FEATURES
SCA TRUE 6" SUSPENSION LIFT 
SCA POCKET STYLE FENDER FLARES  
35" BF GOODRICH ALL-TERRAIN KO2 TIRES  
STAINLESS STEEL DUAL PERFORMANCE EXHAUST  
SCA ENGINE MANAGEMENT CALIBRATIONS  
20" BLACK WIDOW WHEELS  
SCA LOGO BRAKE CALIPER COVERS  
LOUVERED HOOD VENTS  
BLACK WIDOW CUSTOM STITCHED HEADRESTS  
RED LED INTERIOR LIGHTING  
PREMIUM QUALITY BLACK WIDOW EXTERIOR BADGING  
BLACK WIDOW "PUDDLE" PROJECTOR LIGHTING  
PAINTED INTERIOR TO MATCH EXTERIOR  
FRONT TINTED WINDOWS  
MONOTONE PAINT
OPTIONAL EQUIPMENT UPGRADES
SCA SUPERCHARGER PACKAGE 
421 PERFORMANCE PACKAGE 
22 X 12" WHEEL AND TIRE UPGRADE  
SCA CHEVY HIGH CLEARANCE FRONT BUMPER  
(20" RIGID RADIANCE LIGHT BAR AND (2) RIGID DOT FOG LIGHTS) 
RIGID INDUSTRIES RDS 54" ROOF MOUNT LED LIGH BAR  
BLACK MESH GRILLE REPLACEMENT WITH (2) 6" (1) 10" LED LIGHTS  
POWER RUNNING BOARDS  
LEATHER SEAT COVERS  
4" LEFT EXCHANGE  
FULL MATTE PAINT  
TWO- TONE MATTE PAINT  
CUSTOM FADE OR STRIPE PAINT  
PAINTED BLACK WIDOW LOGO ON HOOD  
BLACK FENDER FLARE BOLTS (STANDARD IS STAINLESS)

OPTIONAL EQUIPMENT UPGRADES
SCA SUPERCHARGER PACKAGE 
421 PERFORMANCE PACKAGE 
22 X 12" WHEEL AND TIRE UPGRADE 
SCA BULL BAR 
20" RIGID RADIANCE LIGHT BAR (MOUNTED ON BULL BAR) 
RIGID INDUSTRIES RDS 54" ROOF MOUNT LED LIGHT BAR 
BLACK MESH GRILLE REPLACEMENT WITH (2) 6" (1) 10" LED LIGHTS 
SCA STAINLESS STEEL GAUGES 
POWER RUNNING BOARDS 
LEATHER SEAT COVERS 
4" LIFT EXCHANGE 
SCA PERFORMANCE "PUDDLE" PROJECTOR LIGHTS 
TWO- TONE MATTE PAINT 
CUSTOM FADE OR STRIPE PAINT 
PAINTED BED COVER 
BLACK FENDER FLARE BOLTS (STANDARD IS STAINLESS)Z
WHY CHOOSE A SCA PERFORMANCE LIFTED TRUCK?
WE HAVE A WIDE SELECTION OF SCA PERFORMANCE TRUCKS INCLUDING THE LTD EDITION BLACK WIDOW AND APEX MODELS. WE ARE ALSO ABLE TO HELP YOU CREATE YOUR OWN SPECIAL EDITION TO MEET YOUR INDIVIDUAL DESIRES.
TODAY, SCA PERFORMANCE TRUCKS CONTINUES THE RICE BUICK GMC TRADITION OF CREATING PERFORMANCE PACKAGES FOR TRUCKS AND SUVS.
YOU WILL START TO NOTICE IMMEDIATELY THAT HEADS WILL TURN, JAWS WILL DROP, HEARTS WILL SKIP A BEAT, AND ABOVE ALL, PEOPLE WILL TAKE NOTICE WHEN YOU ARE SITTING BEHIND THE WHEEL OF THE AMAZING BLACK WIDOW OR APEX TRUCK FROM SCA PERFORMANCE. THAT'S THE WHOLE POINT. THE HEARTS AND SOULS OF THESE PACKAGES ARE ABOUT HEART STOPPING, AWE-INSPIRING DESIGN THAT IS SO VISUALLY STUNNING AND AWESOMELY POWERFUL, IT'S ACTUALLY A LITTLE SCARY.
SIMPLY STATED: SCA PERFORMANCE IS ALL ABOUT THE PASSION DRIVEN LIFESTYLE.